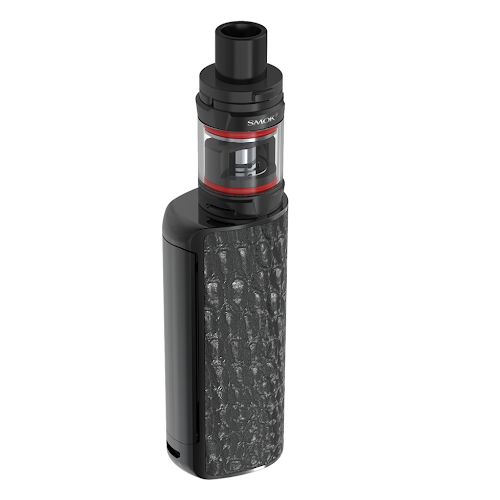 The Priv V8 Special Edition kit broadly incorporates the design of the Smok Priv kits. Thin, slightly rounded, it can accompany you throughout the day without problem in a pocket or bag. Accompanied by the TF Nord 22 atomizer, the kit forms a design and harmonious whole typical of Smok.
The Priv V8 kit is simple and there is a good built-in 1800 mAh battery. This will allow you an excellent autonomy for the day or more if your use is not too intensive. There are no screens or complex operating modes, but simply an LED that will indicate the power and the remaining battery level. Obviously, the Priv V8 kit will recharge via the micro-USB cable provided.
The TF Nord, meanwhile, has a diameter of 22 mm and a 2 ml capacity tank. It will simply fill from above by sliding the top cap. Of course, its airflow is adjustable and will bring you a more or less air circulation according to your preferences.
Finally, the TF Nord comes with two Nord Mesh resistors in 0.6 ohm (up to 25W of power) and will be compatible with all the resistors in the Smok Nord series.
Features
Built-in battery: 1800 mAh
Battery level LED indicator
Charging via micro-USB cable
Atomizer diameter: 22mm
Adjustable air flow system
Capacity: 2ml
Top filling
Connections: 510
Complete electronic protection package
Resistance range: 0.5-1ohm
Resistors supplied: North Mesh resistance 0.6 ohm (25W max)
Compatible resistors: Smok Nord series resistors
Content
1 x Priv V8 Nord Special Edition box
1 x TF Nord 22 mm
2 x 0.6 ohm North Mesh resistors (one pre-installed)
1 x USB cable
1 x spare parts
1 x user manual
SCHEDA DATI
| | |
| --- | --- |
| Tipo di hardware | Kits & Packs |
| Kits | Principiante, Intermediario |
| Tipo di kit | Kits Box elettroniche |
| Tipo di batterie | Integrato |
| Autonomia | 1800 mAh |
| Micro USB | Solo caricamento |
| Tiraggio | Aérien |
| Airflow regolabile | si |
| Capacità (ml) | 2 ml |
| Diametro dell'atomizzatore (mm) | Ø 22 mm |
| Atomizzatori compatibili | 22mm max. |
| Riempimento | Dall'alto |
| Connessione | 510 |
| Protezioni elettroniche | si |
| Resistenze | da 0.5 a 1 ohm |